Reimagining the Monograph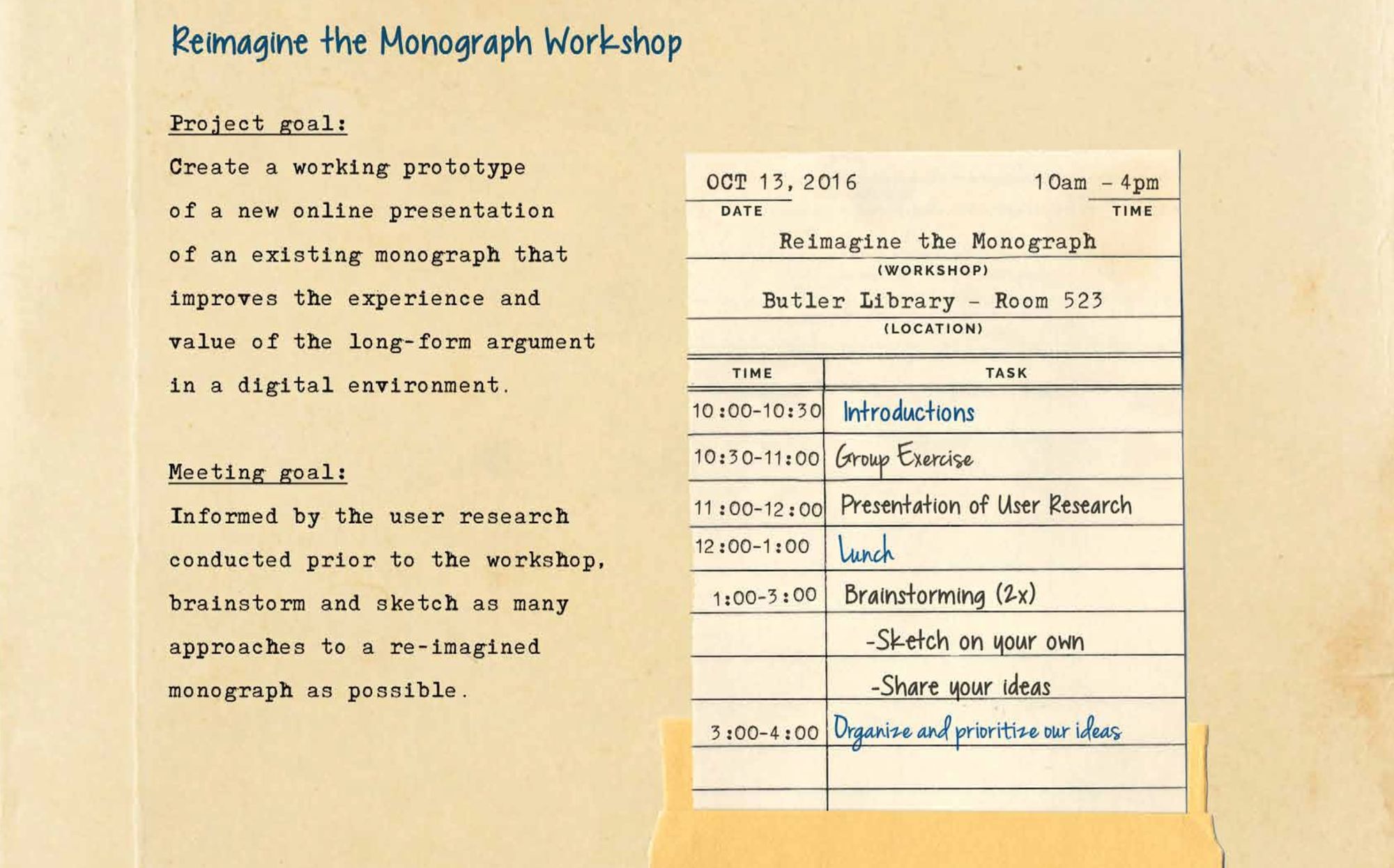 White paper released for comment: Dec 2016
Final white paper released: Jun 2017
Read the paper
What we did:
Conducted ethnographic research on historians researching with scholarly monograhs.
Held a workshop at Columbia University in which, informed by the research, we brainstormed ways we could improve the experience of finding and using digital monographs.
Tested the concepts of the best ideas, and then built one, Topicgraph.
Documented the work of the project in a white paper.
What we created:
Article
Reimagining the Digital Monograph: Design Thinking to Build New Tools for Researchers
Published in Journal of Electronic Publishing: February 19, 2018
Published as whitepaper: June 12, 2017
Draft released for comment: December 12, 2016
Topicgraph (prototype)
Understand at a glance the topics covered in the book, then jump straight to pages about topics you're researching.
Code
Topicgraph code – Github project containing the code powering the web application
Blog Posts
Reimagining the Digital Monograph — White Paper, June 12, 2017
Lean Ethnography — Is That Even a Thing? May 31, 2017
Imagining the Big Picture — and Filling in the Details One Piece at a Time, Feb 23, 2017
Presentations
Reimagining the Monograph — AAUP 2017
User-centered Design and Data Visualization Techniques: To Reimagine Digital Scholarly Monographs — AIGA Converge 2017
Innovation in Scholarly Book Publishing: Reimagining the Digital Monograph — SSP 2017
Reimagining the Monograph: Improving the Discovery and Use of Scholarly Ebooks — DPLAfest 2017
Unlocking the Value of the Monograph — ACRL 2017
Building the Better Ebook and Beyond: Design Thinking to Reimagine the Monograph — CNI Fall 2016
Reactions to Our Work
ATG Interviews Curtis Michelson, Founder of Minds Alert LLC — Tom Gilson, Against the Grain, June 11, 2018
NextGen Innovation in Scholarly Communications: An Exemplary Collaboration between a Research Library and a Technology Partner — Curtis Michelson, EDUCAUSE Review, March 26, 2018
New Vision for the Monograph — Carl Straumsheim, Inside Higher Ed, June 13, 2017
Topic Modeling and the Future of Ebooks — Ian Harmon, Scholarly Commons, April 6, 2017
Topicgraph i JSTOR, test på ei bok — Pål M. Lykkja, Åpen Vitenskap, March 8, 2017
Intellectual Craftsmanship and Scholarly Engagement — JSTOR's Ideas for Redesigning the Digital Monograph — Jill O'Neill, Scholarly Kitchen, January 10, 2017
Open Access eBooks on JSTOR, Courtesy of Knowledge Unlatched — Charles Watkinson, University of Michigan Press, December 20, 2016