Oh, the Places this App Will Go
It's graduation season. Robes are being donned, caps thrown in the air, inspirational and/or trite speeches being given. Here at JSTOR Labs, we've got a graduation of our own to celebrate.
A few years ago, we developed a little web app called JSTOR Snap, which let you search for articles in JSTOR by taking a picture of any page of text. It was an interesting concept, and we learned a great deal from it. For example:
In many ways, these findings led directly to the development of our most recent project, Text Analyzer. Snap and Text Analyzer present new ways of doing scholarly searches, and they do so not with keywords but using large text files. They both allow users to take a picture of a page of text and search with that. They both use OCR services to extract text from image files. Heck, we even recycled Snap's icon in the Text Analyzer mobile design: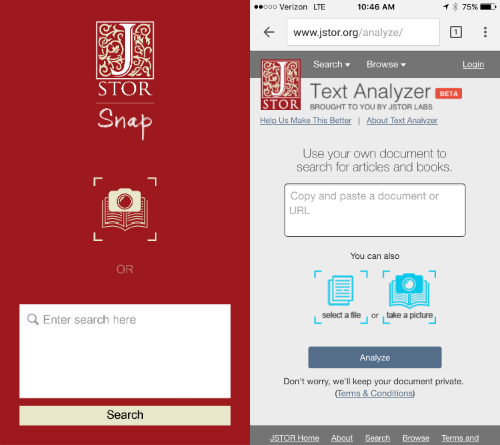 With Text Analyzer, we were also able to improve upon Snap too: it accepts more kinds of input, better fitting within a researcher's workflow; we improved the recommendation algorithm significantly; and users of Text Analyzer have sophisticated tools for refining their search.
Because of these improvements, we feel it's the right time to redirect users of Snap to the Text Analyzer tool. Snap's designs will be archived here in this blog, and its functionality will continue to be refined as we keep working on Text Analyzer and other projects.
This evolution represents what we most hope for when we at JSTOR Labs release these projects: we want these ideas to go somewhere, to inform future generations of work, be it ours or others'. We want them to graduate.
And so, I hope you'll join me today in celebrating Snap's graduation. Our tiny little web app is all grown up now. It's throwing its cap in the air, and (sniff) we couldn't be prouder.
---